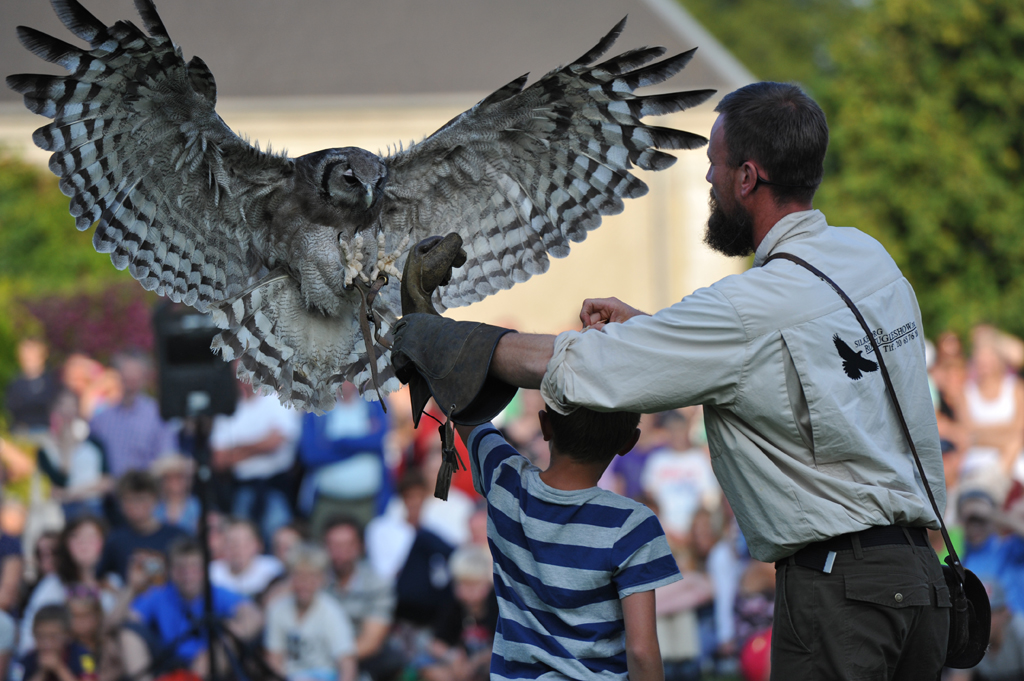 Falconer show Egeskov, Photo: Bent Hye Nielsen
Silkeborg Rovfugleshow offers exciting, educational and humorous falconry displays / birds of prey shows at out of town events.
Our presentations can be adapted to a special event or theme.
Our Falconry Show features exciting stories of falconers and traditions of the 4000 year history and ends right at the present situation of birds of prey and falconry. For our out of town shows both falcon, hawk and owl is presented and fly freely, while the falconer humorously tells about the birds amazing skills and differences. We involve our audience in our show, and some of the audience even get the chance to experience the feeling of "flying" a free hawk or owl. We keep the show on as personal a level as possible, and there is always time for questions from the audience.
The past many seasons we have held several shows round and about in Denmark, and due to the fact that, we always bring more, birds, we. never have had to cancel a show because. a bird has flown away. Thus, the risk of disappointed audience is also significantly smaller than when booking falconers, who only fly one bird.
In addition to our falconry display, we can also be booked for all-day events, where your guests can either meet us at a booth, or where we move around in between them with the birds.
Price 2021:
Out of town Falconry Show / birds of prey show for schools / institutions as well as by smaller and private events:            Kr.  5900,-
Out of town Falconry Show / birds of prey show at major public events:                                                                              Kr.  7900,-
Price is excl. VAT and driving.
For any questions or special requests please contact:
Falconer Flemming Sanggaard
Silkeborg Rovfugleshow
Ansøvej 14, 8653 Them
Tel.: 2065 7620
Mail: info@silkeborg-rovfugleshow.dk